Welcome to Fairhaven Veterinary Hospital located in Bellingham, Washington.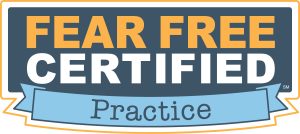 Located in Bellingham, WA, the Fairhaven Veterinary Hospital is proud to be a Fear Free Certified Hospital! We were the 23rd hospital nationwide to have earned this prestigious distinction. As a member of the Fairhaven neighborhood since 1979, we have been providing full service veterinary care and referrals to the wonderful communities throughout Whatcom and Skagit county for 40 years. We are firmly committed to compassionate, professional and individually tailored care for all of our patients and their pet parents. It is our belief that the wellness and healing of a family pet is best done through a cooperative approach between owner, veterinarian, support staff and, most importantly, the patient.  Together we can provide veterinary services that ensure wagging tails and purrs of delight for your four-legged family members for years to come.
Our dedicated team of Veterinarians: Dr. Mark Kummer, Dr. Wendy Zawoysky, Dr. Tamara Godbey, Dr. Mike Hinckley, Dr. Claire McPhee, and Dr. Heather Schasch.